A bowl of noodles accented with vegetables and maybe some meat in broth is a simple meal, versatile as to specific ingredients and can be quick to set up.
Boil water for cooking the noodles. The single serving nests of Chinese egg noodles are convenient and cook quickly for this purpose. While I'm cooking for 5, with the appetites of my family, and the volume of vegetables I use, 4 nests is a better amount.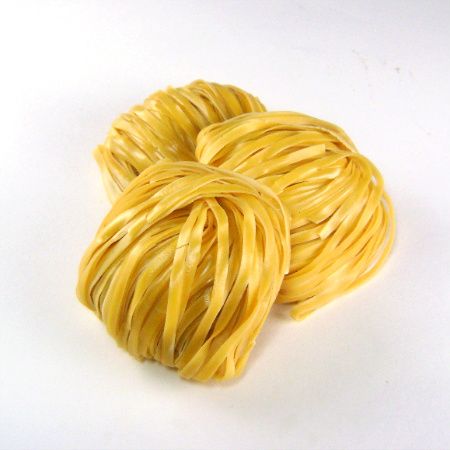 While the noodles are cooking, start some broth. Fastest would be to use
Oigatsuo soup base
. I generally mix it about 1/2-2/3 strength as the recommended dilution ratio is still too strong for my tastes, probably because of the salt intensity. Here, I used some
Better Than Bouillion Low Sodium Chicken base
seasoned with some soy, rice wine, ginger, garlic and star anise.
Stock:
6-8 cups chicken stock, low sodium
2 tablespoons soy sauce
2 tablespoons rice wine
1 clove garlic, crushed lightly
2 coins of ginger the size of quarters
2 star anise
Combine and simmer until needed. Correct seasoning to taste if needed.
Noodle Garnishes:
8 oz button mushrooms sliced thinly
1 carrot cut julienne
1/4 head of cabbage cut julienne
1/2 pound spinach
1/2 pound char shu thinly sliced. Other cooked meats would work well too such as ham, chicken, pork, shrimp
2 cloves garlic, minced
2 teaspoon minced ginger
Soy sauce as needed
Rice wine as needed
Condiments:
Sriracha or chili oil
soy sauce
sesame oil
rice vinegar or black vinegar
While the stock is cooking, marinate the mushrooms with 1/2 of the minced garlic and a little soy. Toss the mushrooms quickly as soon as you add the soy sauce as they'll absorb the soy quickly and unevenly if you just pour some in.
Because of garlic in with the mushrooms from the start, Stir fry on only medium heat to keep the garlic from burning. After the initial sear, turn to medium low to cook gently and remove some of the water, to concentrate their flavor. At lower heats, they don't require a lot of attention so you can work on some slicing as it cooks. Stir them occasionally as needed. This is a bonus for a Chinese dish as you have time to prepare other parts of the meal.
When the mushrooms are done, remove them to a bowl for serving.
Wipe out the wok and heat on high. Add 2 teaspoons of oil, then the cabbage and carrots. Stir fry to mix, and add the ginger. Continue stir frying. After 2 minutes add a little rice wine and stir fry until crisp tender, another minute or so. Remove to a bowl for serving.
Wipe out the wok, return to high heat and add 1 teaspoon of oil. Swirl to lightly coat the wok. Add the spinach and toss quickly. Add the rest of the garlic and continue to cook until the spinach has wilted and is tender.
Lay out the ingredients and condiments and warmed bowls.
Build your bowl. Noodles first, then mushrooms, spinach, cabbage and carrots and an accent of Char Shu
Add the stock, just enough to keep things moist is best. This is not really a soup.
Stir to combine and enjoy with the extra seasonings of your choice. A little more soy, some sriracha, sesame oil, maybe a little rice vinegar or black vinegar.
Delicious!